Owning a vehicle is a big responsibility in any city; but perhaps, there is no greater challenge to owning a car than doing so in the city that never sleeps. New York City is the largest city in the United States, with a population of almost 18 million. With so many people requiring transportation, owning a vehicle is a luxury. Still, nearly half (46%) of NYC households own at least one car. If you're considering moving to New York City with your car, you should be aware of the many obstacles to vehicle ownership, as well as learn a few tricks of the trade for a smooth transition.
Parking
By far, the biggest hurdle to owning a car in NYC is the (lack of) parking. Keeping your car in a garage or on the street will prove challenging in different ways.
1: Garage Fees to Break the Bank
Your car needs to stay at rest somewhere when it is not in use. Not surprisingly, parking space is a precious resource. So precious, in fact, that it often costs as much as some people's rent in other parts of the country. The majority of New Yorkers keep their cars in garages, some of which belong to the building in which they live. The average cost to rent a spot in most buildings with on-site garages can run between $100 and $1,000 a month, depending on the neighborhood. The average monthly fee to keep your vehicle in a private garage is $430.
Garage fees fluctuate with the seasons; if it makes sense, buy an annual pass at the beginning of the year to avoid rate hikes. Storing your car should be a top concern when deciding to bring it to New York City.
2: Street Parking to Break your Back
Some opt for parking on the side of the street, which can cost less money in the long-run but cause more overall trouble. New York City employs a complicated alternate-side parking system which requires residents to move their cars whenever street cleaning is scheduled. Keeping your car outside also ensures it will be buried in snow after each and every snowstorm. You can expect lots of digging to make the car useful again.
Many who choose to park on the street set up an annual budget of $1,000 or more to deal with expensive parking tickets and towing costs. Some even pay for overnight parking when they cannot find space to park their cars before a scheduled cleaning. No matter what, parking in the city will drain your wallet more than in any other part of the country.
Fueling Up and Washing
After you waste a quarter tank searching for a parking spot, you'll have to spend another quarter tank of gas searching for a place to refuel. NYC is greatly expanding the use of its land to accommodate more inhabitants who need housing. As such, gas stations are far and few between. What we are seeing, however, is an increase in charging stations in parking garages across town to encourage the use of electric vehicles.
In New York City, every inch of land has a purpose. Thus, there are hardly any spots to wash or detail your car. If you like to keep your vehicle clean and shiny, you'll have to go out of your way to find a car wash or visit a family member with a driveway and a hose. Finding the right spot will just increase your need to refuel unless you drive an electric.
Driving Tips
NYC traffic has a rigid, fast-paced flow. Drivers maneuver the highways with intent and can catch you off-guard. Many who visit claim that New York City driving is aggressive; yet, being alert and driving with purpose is what keeps traffic moving. It can take time to get used to this new driving style.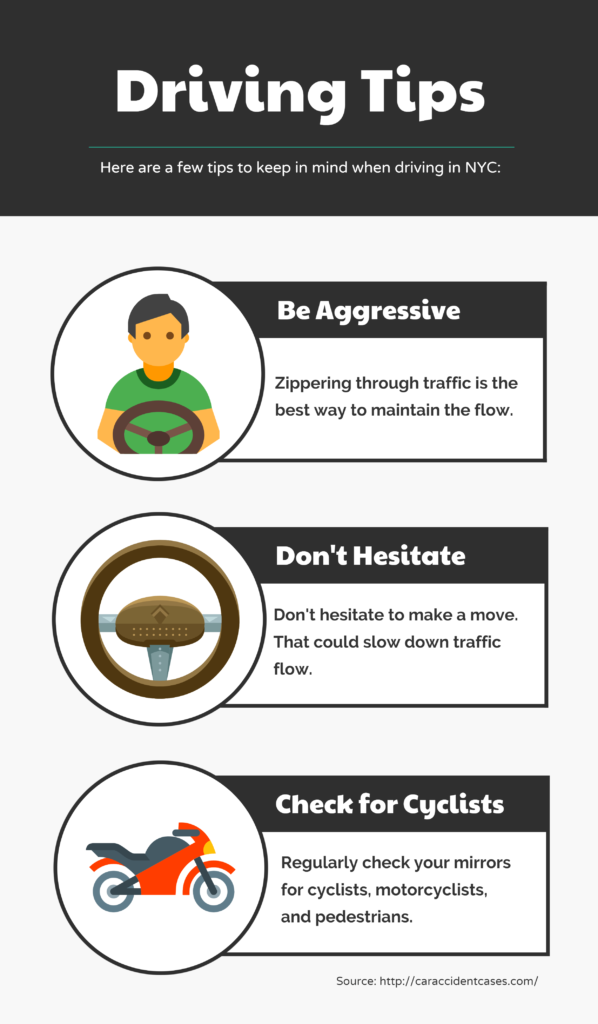 Car accidents in New York City are quite common, and can often lead to injuries and damage to your vehicle. Getting a local personal injury attorney involved can make a world of difference in ensuring that you receive the compensation you need for the harm you've suffered. Contact Car Accident Cases to be connected to a knowledgeable car accident attorney in NYC today.